Interim COO/CIO services allows you to bring in crucial, outside operations and information technology proficiency to strengthen from within the performance of your executives and divisions.
EXTEND YOUR LEADERSHIP TEAM WITH GREATRIDGE
From forward-thinking CEOs to up-and-coming Vice Presidents, The GreatRidge Company delivers the extra support and know-how to busy executives coupled with the information and business acumen to grow your leadership team. Whether your C-level executive needs an extra set of "arms and legs" or one of your business function needs to retrench and redirect, Interim COO/CIO services provides the knowledge to get you there.
PROVIDING THE FRAMEWORK FOR SUCCESS
As Interim COO or CIO, we are often asked to set the strategy and drive completion of improvement efforts. GreatRidge will work closely with your people and provide vital coaching and mentoring to your team members. We assist senior executives in developing and imparting their vision to their stakeholders: board, senior team, employees and investors.
NAVIGATING THROUGH MAJOR BUSINESS CHANGES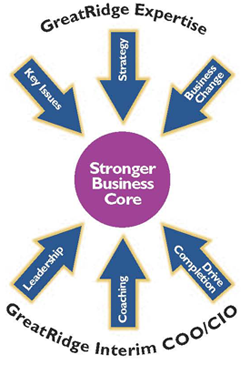 You've determined that some of your key functions are not as effective as you would like, in supporting fundamental business decisions. GreatRidge determines the root cause of these issues and identifies the important changes that must be made going forward. We provide COO and CIO leadership to successfully move your company through major business changes.
IS IT TIME TO STRENGTHEN YOUR COMPANY?
If you're ready to build upon your existing team and strengthen your company, GreatRidge has the people, processes and expertise to take your business where you need it to be. Contact us to hear what we've accomplished for other companies.
To learn more about our COO/CIO Services or GreatRidge, please call us at 404-477-4343 or email info@GreatRidgeCompany.com.