Does your company, business line or start-up need some get-up-and-go? Are you struggling to develop a plan of action and get your idea off the ground?
GREATRIDGE PROVIDES STRATEGY AND ACTION
The GreatRidge Company provides your company with the crucial tools and resources to jumpstart your new offering, such as:
Three-year strategy with revenue and profit projections
Operational metrics reports and implementation of new processes
Compensation model for sales and delivery organizations
We work with companies of all sizes (start-ups through Fortune 50), allowing us to bring best-of-class solutions to businesses, like yours, who want to bring new ideas to fruition.
START A BUSINESS FROM THE GROUND UP
Utilizing our Business JumpStart checklist, we educate and support you on the operational activities necessary to start a successful business.
AUGMENT AN EXISTING BUSINESS MODEL
GreatRidge works with your leadership team to develop an operational strategy with a focus on the activities, timing, resources, organizational structure, revenue outcomes and measurements for success.
LAUNCH A NEW BUSINESS LINE
GreatRidge helps you define the new service and provides an implementation plan.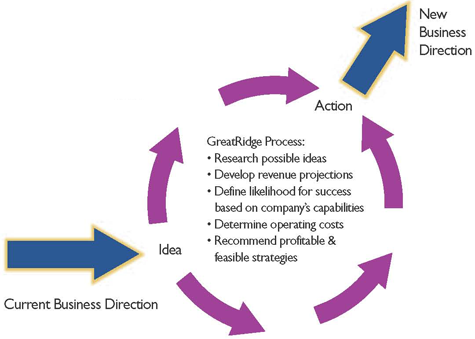 NOT SURE WHICH DIRECTION TO TAKE?
GreatRidge can help you determine which of your ideas can be profitable. We'll do research on each, review the financial scenarios, success factors and we'll recommend the best ones for your company.
ARE YOU READY FOR A JUMPSTART?
Whether you're an established business or an entrepreneurial start-up that needs some traction and success with your new idea, GreatRidge provides the strategy and action to jumpstart your venture. Contact us to hear about the results we've generated for other companies.
To learn more about our Business Jumpstart solutions or GreatRidge, please call us at 404-477-4343 or email info@GreatRidgeCompany.com.